At Brookside Aesthetics we use NEOSTRATA® a ProSystem that is highly effective. It is a superficial peeling system that offers a range of peel options, including peels that are intended for specific skincare concerns, this will enable your aesthetician to safely design a treatment plan around your needs and concerns. These superficial peels are considered "lunchtime peels" because there is little to no downtime following the treatment.
Chemical peels are available for different skin types and skin concerns. They vary in the degree of penetration and peeling.
Different Chemical Peels Available:
Light or superficial peels remove some of the top layer of skin to correct minor skin imperfections, such as congested pores and dull, rough skin.
Moderate or medium peels remove the second layer of skin for more advanced treatment.
Deep peels are performed only by physicians to remove deep wrinkles, scarring and precancerous growths. A local anesthetic and a sedative are needed for the treatment, and recovery time is extensive.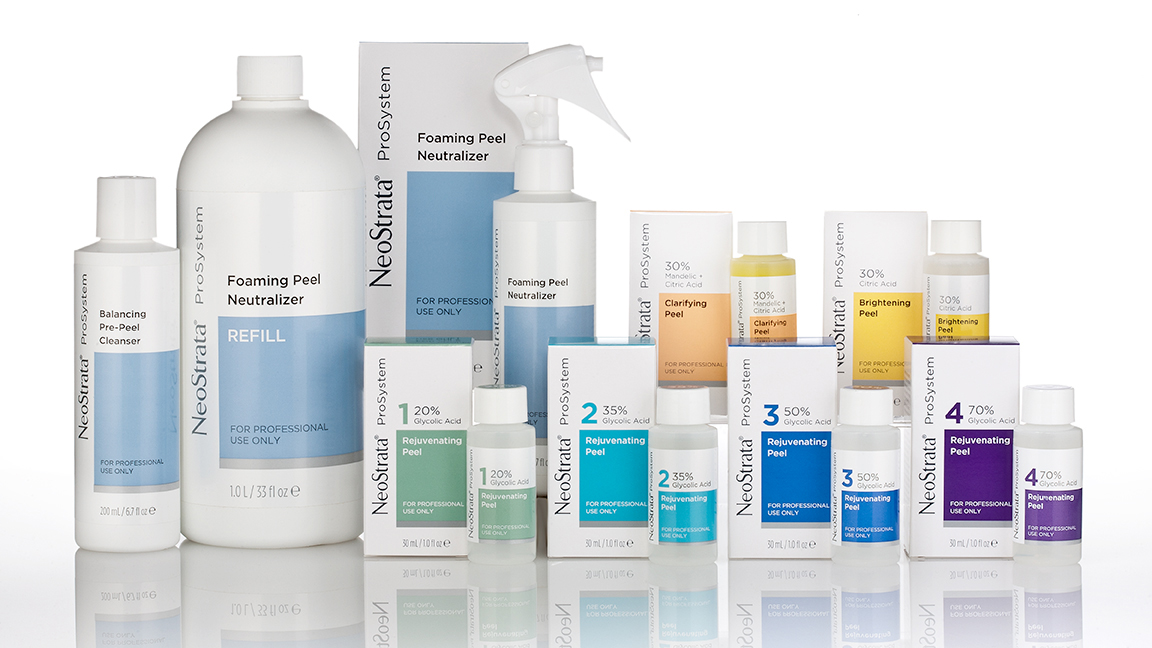 The Pro System can address the following:
Photo ageing skin
Hyperpigmentation/Melasma
Acne (Teen, Adult and Hormonal Acne)
Rosacea/Sensitive skin
Pseudofolliculitis Barbae
Keratosis Pilaris
Dry/Dehydrated skin
Textural skin concerns
At Brookside Aesthetics we use the NEOSTRATA® ProSystem Peels in conjunction with the NEOSTRATA® homecare
products, to address the cosmetic aspects of the skin to help the skin to appear smoother, younger and healthier-looking with enhanced clarity and brightness. This will help the patient to achieve the optimum results.
Following your Visia Skin assessment a full treatment plan will be put together with advise on pre preparation and your aftercare home procedure which will incorporate the Neostrata products prescribed to you.  The aftercare procedures following your chemical peel treatment will give you the optimum results for your skin concerns and outcome.
Redness is a normal side effect and is evidence of healing
There may be changes in skin colour, either darker or lighter than normal, this is very rare but can be more common in people with dark skin types
Very rarely, there may be scarring
Also, very rarely, an infection may develop